October 22nd, 2014
Read the RNP use case "eduroam service is available in public spaces of Porto Alegre"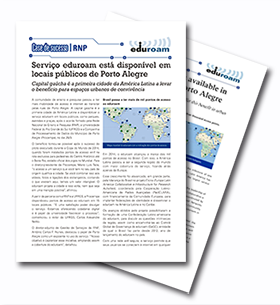 The document was developed by the Communication area of the Brazilian National Network, RNP, and is available in English and Portuguese.

By: Tania Altamirano L.
Part of the article highlights the importance of the ELCIRA project in the growth of eduroam in Brazil:
"In 2014, eduroam has reached the milestone of one thousand hotspots in Brazil. Thus, Latin America has become the second region with the largest service coverage, just behind Europe.
This growth was largely increased by the leadership of Brazil in ELCIRA (Europe Latin America Collaborative e-Infrastructure for Research Activities), coordinated by Latin American Cooperation of Advanced Networks (RedCLARA) and financed by the European Community to deploy identity federations and expand eduroam in Latin America and the Caribbean.
The progress achieved by the project enabled the creation of a Latin American Confederation of eduroam to discuss particular issues related to the region, as well as to address them to the Global Governance Committee of eduroam (GeGC), entity which Brazil is a party since 2012, when eduroam was released in the country."
• Download the Portuguese version
• Download the English version