September 25th, 2014
ELCIRA's interactive map shows Research Groups from Europe and Latin America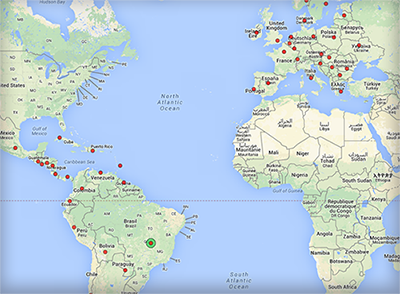 This online tool presents an interactive space where users can surf through a data base and find information related to initiatives developed under the FP7 and ALFA programs with participants from Europe and Latin America.

By: Tania Altamirano L.
Currently, this data base includes 85 projects and offers details of 580 related institutions, with links to the description of the projects available in the website of CORDIS (Community Research and Development Information Service) of the European Comission.
Developed by the ELCIRA Work Package 6 (Extending and Strengthening the Collaboration Platform), this map aims to improve the collaboration between Latin American and European researchers by disseminating the information of funding opportunities, and supporting the use of electronic collaboration tools.
Check out the map here: https://comunidades.redclara.net/mapa_elcira/mapa.php